America's Top Portable Power Pack
The ArkPak is a unique 12V and 110V power battery box, which allows you to choose a 12V 130 amp hour battery so you can replace at any time. You can get up to 3 days of 110V power or up to 7 days of 12V power*, potentially giving days of continuous power! 
So whether you are camping, hunting or boating you'll have continuous silent power 24 hours a day for days on end. Giving you more freedom to stay longer off the grid.
* Based on average use of a 40 litre fridge / 19" TV and a 130ah battery
Den Henrickson on Amazon.com - "What won me over was I could put in any group 31 or smaller 12 volt battery in the ArkPak and replace it as necessary. The Goal Zeros had non-replaceable batteries. I ended up purchasing a 120 AH group 31 AGM deep cell battery for $230 for the ArkPak. That made my total cost to buy at $630 so more then the Yeti 400 and less than the Yeti 1250."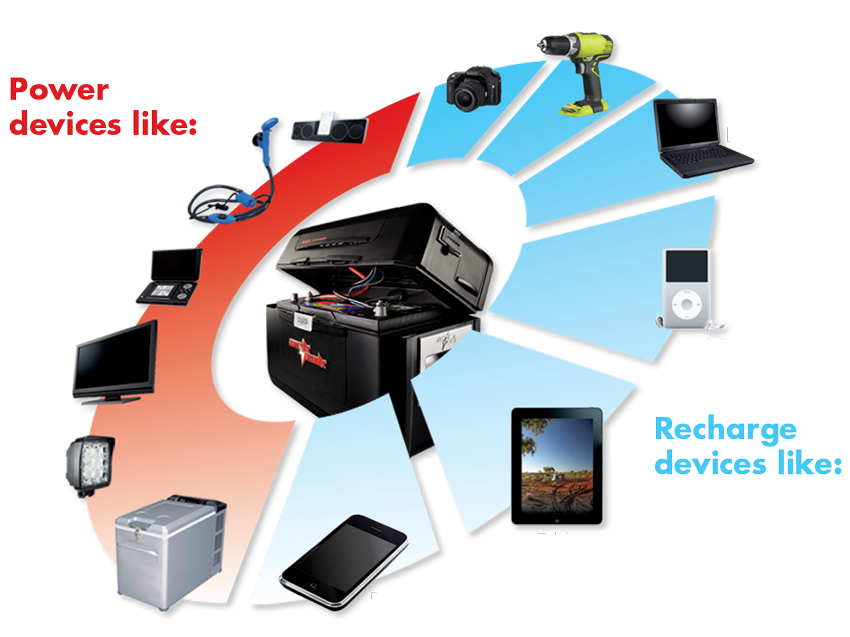 What can be powered or recharged
The ArkPak can power and recharge all your essential and non-essential 12V and 110V devices.
ArkPak Portable Power - Field Test
* Figures based on using a 130 amp hour deep cycle battery (Group 31) and (a) continual use of a 40 litre fridge/freezer(12V)
in average conditions (b) continual use of a 19 inch LED TV (110V)
How Long It Lasts
How long your power source will last depends on 4 things:
What battery you have in it
How fully charged it is
What device(s) you are running off it
The environment and weather conditions
Here we have tried to give you an approximate idea as to how long you can run these common devices
with a large, fully charged 130 ah deep cycle battery.
On average, you can expect to get up to 7 days of 12V power and up to 3 days of continuous 120V power from a fully charged 130ah (Group 31) battery (based on running a 12V 40 litre fridge or a 19" LED TV). However in recent tests conducted by Ark, under stable conditions, a fully charged 130ah battery (Group 31) ran a 39Qt refrigerator for 11 days on 12V power
Recharging your ArkPak
There are 3 easy ways to recharge the 12V battery in your ArkPak
110V Mains recharging:
Simply plug your ArkPak into the mains power socket at home and ArkPak's built in charger will recharge most 12V batteries (up to 130ah / Group 31) overnight in 12-16 hours. Plus when you are not using it, leave your ArkPak plugged in so that the battery receives a constant charge and benefits of the 7 stage smart charger . This will maintain, condition and prolong the life of your 12V battery.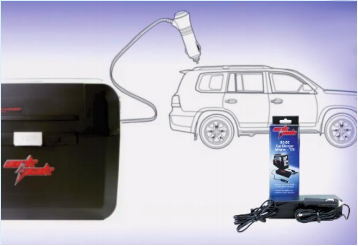 In-Vehicle recharging:
There are two ways you can recharge your ArkPak in your vehicle:
(a) Simply by plugging it into the 12V socket in your vehicle, via the optional DC-DC car charger adaptor (sold separately) – giving you 6 amps of charge per driving hour.
(b) Via the ArkPak's built-in 50 amp Anderson plug, giving you a potential 50amp charge per hour directly off your vehicle's alternator.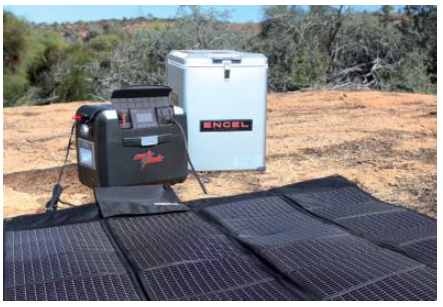 Solar Power recharging:
You can recharge your ArkPak using all main types of solar panel (fixed & folding) simply by plugging the solar panel into either the Anderson Plug, or attaching it to the ArkPak's external high current terminals. The bigger the solar panel, the higher the rate of charge your ArkPak will receive (up to 6 amps, dependent upon weather conditions).
As well as being technologically innovative and highly affordable, the ArkPak isalso one of America's most environmentally responsible portable power sources:
•    Makes no noise (in silent Mode)
•    Uses no fuel
•    Gives off no emissions
•    Requires no maintenance
•    Costs nothing to run